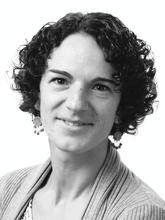 Since 2011, Gaëlle Lisack is a project manager at evalux and conducts evaluations for NGOs and local governments in the fields of civic involvement, education, and culture.
Gaëlle studied Political Science in Paris and Berlin. She then continued her career as a researcher and obtained her PhD from the Freie Universität Berlin and the Université Paris Sorbonne-Paris IV. The topic of her PhD thesis was: "National or intercultural institutions? Analysis of the programs of Central-European cultural institutes at the beginning of the 21st century in Paris and Berlin". Between 2013 and 2014 Gaëlle conducted a study for MORE EUROPE – external cultural relations (Brussels) and the ifa (Institute for Foreign Cultural Relations, Stuttgart) on European external cultural relations. Simultaneously, Gaëlle worked in projects promoting European intercultural dialogue.
Her interdisciplinary and transnational studies, her research, and her work experience provide Gaëlle with profound knowledge of and various perspectives on the challenges that project managers face in the fields of intercultural exchange and education. She is experienced in these fields, both, as a manager of intercultural projects, and also as a researcher and evaluator.
t: 0049 30 809 3270-41