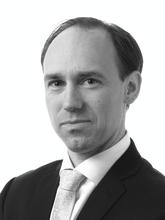 Christian Walloth lives and works in Brussels. He is supervising the fields of infrastructure, urban and regional development, and economics.
Dr.-Ing. Walloth is a long-time freelancer of evalux and managing director of a company for urban and regional development. He leads strategically relevant projects and advises clients in the public and private sectors.
Christian Walloth is a pioneer who knows how to integrate different ways of thinking and concepts. Following his diploma in electrical engineering at RWTH Aachen University, he gained broad experience as a consultant in international corporations, banks, medium-sized companies and major infrastructure projects in Germany and Europe. He then earned his doctorate at the Institute of City Planning + Urban Design in the programme "Advanced Research in Urban Systems" at the University of Duisburg-Essen.
He also draws on his own experience as founder and award winner of a high-tech start-up at the technology location Aachen. His current methodological focus in strategic urban and regional development integrates approaches from systems science, entrepreneurship research and ethnographic methods.
in Germany
t: 0049 30 809 3270-52
in Belgium
t: 0032 486 4778 50